1493 S Higley Road
Gilbert, Arizona 85296
(480) 988-7334
Store Hours:
Monday-Friday 10:00am-7:00pm
Saturday 10:00am-6:00pm
Sunday Closed
---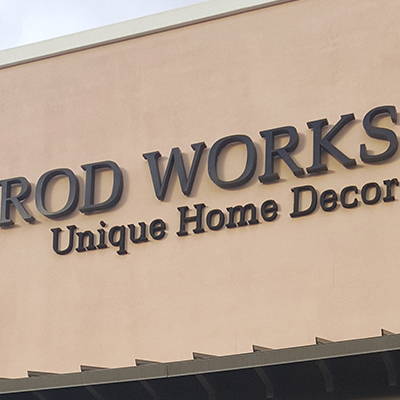 Opened December 13, 2013 by Eileen and Scott Salmon
Two years after opening the first Rod Works store in Arizona, my husband and I decided it was time to share the wonderfulness that is Rod Works to the West side of the Valley! We have now been open at The Shops at Norterra for almost 5 years!! Since opening we have met so many wonderful customers who were already familiar with Rod Works, and many more that had no idea who or what we are. We love to hear the comments made when customers come in for the first time, the "oooohs" and "aaaaahs" never get old!! We love being able to give one-on-one personal attention to our customers, something you will not find at most other home décor stores. Our friendly employees will help with little jobs, like putting the perfect tray together, and even big jobs like decorating a large wall! We want to be your go to store for any of your decorating needs!! We look forward to meeting new customers every day, and continuing our friendships with those of you that have been shopping with us for years as we continue to offer outstanding customer service and quality products at reasonable prices!
---
At Rod Works we offer unique and charming Home Decor at incredible prices. The imaginative way we display our products will get your creativity flowing while our outstanding customer service will work with you one on one to create a one of a kind look for any room in your home. You will enjoy the inspiring beauty and top notch quality that is at the very foundation of our products.
Join our Rewards Program (*coming soon)
Follow us on Instagram @rodworks_arizona